2 IN 1 FASTEST FINGER FIRST BOARD GAME
Tax included.
Shipping
calculated at checkout.
---
Hurry, low quantity!Hurry! – Only 12 left in stock.
DESCRIPTION
 BORED AT HOME?
We are bringing back the joy of Board Games giving you an interactive alternative to Digital Entertainment.
Get the fun started with our slink puck game! This engaging wooden board game is a kids' favorite as it challenges them to use their skills and focus to defeat their opponent. The sling hockey table game is a great activity for kids and parents alike, allowing everyone in the family to have fun, create timeless memories, and tie special bonds. If for some reason you're not entirely pleased with your purchase, our customer care department has got you covered!
Features:-
ECO-FRIENDLY DESIGN: The wooden sling hockey board game comes with a solid wooden board that is planet-friendly and very durable. The pieces are long-lasting, as well as recyclable, so you can enjoy a great family game without hurting the environment.
 THE FUN NEVER STOPS: This wooden sling hockey game is the ultimate challenge for adults and kids alike! Let the fun begin with this unique wooden board that allows everyone to enjoy a great family game that allows the little ones to develop their skills and spend quality type away from technology.
SKILL DEVELOPMENT: The table hockey game is a fast-paced game that will challenge your kids to develop important aptitudes such as hand-eye coordination, focus, and fine motor skills. Because it is a multiplayer game, this sling puck board is a great way to help everyone connect and create important bonds.
EASY TO PLAY: Our puck game comes with the special wooden board, as well as 10 pucks in either black or white. This is a 2-player game where each player has to uses an elastic rope to launch the ice hockey ball and pass through the goal.
LONG-LASTING GAME: Our wooden hockey table game is made of 100% natural solid wood. It is durable, sturdy, and lightweight, so you can play hockey on it endlessly for many years to come. The slingshot game comes with durable string that allows you to catapult any piece through the gate.
---
 Benefits
 PORTABLE DESIGN:-  string hockey board game is a new toy design that requires no stick, ice, or air. It's a great way for kids to get involved in a strategic game of table hockey, but on a table. With two sets of boards, this portable fast sling puck game can be taken anytime!
 IDEAL GIFT -  Our sling puck board game ​is a great way to promote family togetherness and bonding. It's a fun and easy way to spend time with friends and family. A perfect gift for 3 to 14 years old kids and adults who want to introduce the game of hockey to friends, family, or loved one
CONVENIENT - Lightweight and compact enough to carry.  Ready to play either on table or on the floor.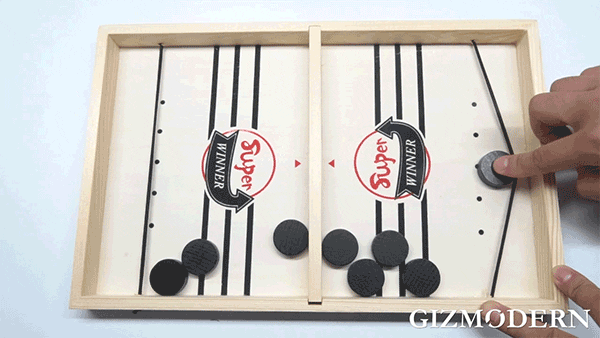 IMPROVE FOCUS - This is not only the fun game but improves your child hand-eye coordination and strengthens fine motor skills.
Improves hand-eye coordination - Fast sling puck is a fast paced action game. Improves your child hand-eye coordination, strengthens fine motor skill extending the childs focus. also enhance children's sense of competition. At the same time, this board game toy is also the best choice for childrens birthday gifts and Christmas gifts!
---
 What is the objective of the game?
Get all your coins to the opposite side of the board before your opponent gets their coins on your side, using just ONE hand!  You must use your cleverness and rapidness as quickly as possible before your opponent beats you
---
 How To Play 
1.

 

To start the game place five pucks on each side of the board.
2. Slide both ends of the elastic band into the side grooves so that they snap into place. Position the pucks wherever you want.  The two players applauded the "High Ten" style to start the game
3. The player uses an elastic band to launch the puck from the door until there is no puck next to it. Players don't take turn, they just refill and shoot as fast as possible.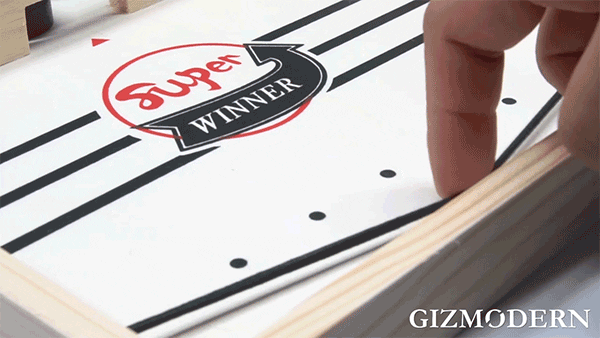 4.  Whoever clears the board first wins.
---
  Frequently Asked Questions :
1.Is it durable?
A: Yes.it is made up of wooden and strong string
2. Where it is made?
A: It is made in India.
3. What is the Return Policy?
A: We accept hassle free 7 days return policy. You can WhatsApp us on the  button on your right bottom of the screen.
4. What is the Shipping Time?
A: It is within 2 to 5 days. Order processing time is 24-48 hours.
5. Is Cash on Delivery Available?
A: Yes,  Cash on Delivery is always available. 
REVIEWS
SHIPPING POLICY
Shipping Rate:

For Prepaid Orders: We charge no shipping and handling fee. Free shipping is included.

For COD Orders:  FREE Cash on Delivery .

Order Processing:

We strive to fulfill orders as soon as you place them. In most cases, your order will be sent to our delivery partner within 1-2 days. Our Business Days are Monday-Friday.

Shipping Times:

For most serviceable pin codes, we try to deliver within 7 days. But due to un-for-seen circumstances like weather, strikes, remote locations, stocking issues or any other reason - it may take longer. You will however be able to track your package using a unique tracking link that we will SMS/email you after the order is sent to our delivery partner.
People who bought this product also bought
You may also like these products